Jurassic World: Dominion Dominates Fandom Wikis - The Loop
Play Sound
Kate Rooney Mara born February 27, 1983 is an American actress.
She starred in the Netflix political drama House of Cards as Zoe Barnes and appeared in the Fox TV series 24 as computer analyst Shari Rothenberg.
She made her film debut in 1999 with Random Hearts. She appeared in Brokeback Mountain (2005), We Are Marshall (2006), Shooter (2007), Transsiberian (2008), Stone of Destiny (2008), The Open Road (2009), Transcendence (2014), Fantastic Four (2015) as Susan "Sue" Storm/The Invisible Woman, The Martian (2015) as Beth Johanssen, and Morgan (2016). She also appeared in the FX horror miniseries American Horror Story: Murder House in 2011 as Hayden McClaine.
Early Life
Kate Rooney Mara was born and raised in Bedford, New York. She is the daughter of Timothy Christopher Mara, a NFL scout and vice president of the New York Giants for player evaluation, and Kathleen McNulty Mara (née Rooney). She is the second of four siblings, with one older brother, Daniel; one younger sister, Patricia (known professionally as Rooney Mara, also an actress); and one younger brother, Conor. Mara's father has Irish, German, and French Canadian ancestry, and her mother is of Irish and Italian descent.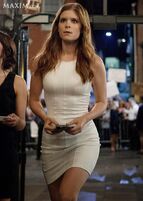 She is a great-granddaughter of both New York Giants founder Tim Mara and Pittsburgh Steelers founder Art Rooney, Sr. Her mother's side of the family has held ownership in the NFL's Pittsburgh Steelers football team since its formation in 1933, and her father's side of the family has held ownership in the NFL's New York Giants since its formation in 1925. Her paternal grandparents were Wellington Mara and Ann Mara. Wellington co-owned the Giants football team from 1959 until his death in 2005, and was succeeded by her uncle, John Mara, who is currently President, CEO, and co-owner of the team. Her maternal grandfather, Timothy James "Tim" Rooney, has run Yonkers Raceway in Yonkers, New York since 1972. Her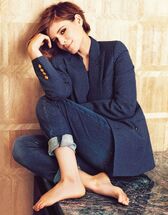 granduncle, Dan Rooney, chairman of the Steelers, was a former United States Ambassador to Ireland and the co-founder of the charitable organization The Ireland Funds. An uncle, Art Rooney II, is the current President and co-owner of the Steelers.
Mara began acting at the age of nine in a school musical. She attended several youth theater-arts schools and appeared in community theater and in school plays. Mara described herself to Esquire magazine as having been "painfully shy" while growing up and said she only had one friend.
Her first audition was for the NBC police drama Homicide: Life on the Street. She did not get the role but knew from then on that she just wanted to act. Mara graduated from Fox Lane High School a year early and was accepted into the Tisch School of the Arts at New York University to study musical theater, but she eventually deferred her slot to work as an actress.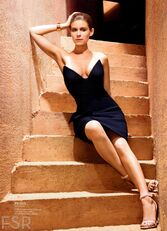 Personal Life
Mara dated actor Max Minghella from 2010 to 2014. In late 2015, she began dating her Fantastic Four co-star Jamie Bell and in January 2017, the couple got engaged.
Mara currently lives in Los Angeles and New York City. She credits her vegan diet and regular workouts for keeping herself fit. "I'm a massive animal lover, too." she explained. "Being vegan has been so good for me. I've never felt better."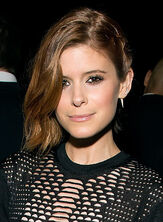 Mara has stated she comes from a "huge" family; her father is one of 11 children, and she has 22 aunts and uncles and 40 cousins. As a descendant of the owners of the New York Giants and Pittsburgh Steelers, Mara is a fan of both teams; she joked, "If I'm mad at my mom I root for the Giants, and if I'm pissed at my dad I root for the Steelers." This relationship contributed to her being cast in We Are Marshall. Mara has sung at both teams' games, and after missing the Steelers' victory at Super Bowl XL due to work, her contracts now state that she can attend if either team goes to the Super Bowl. She was in attendance for the Giants' victory in Super Bowl XLII, the Steelers' victory the next year in Super Bowl XLIII, and the Giants' victory in Super Bowl XLVI.
Mara is one of the faces of the Humane Society of the United States. In 2015, she was featured in one of their campaign videos to promote Meatless Monday.