Mackenzie Davis was born in born April 1, 1987 and raised in Vancouver, British Columbia, Canada and went to McGill University in Montreal. She studied acting at the Neighbourhood Playhouse in New York City. Shortly thereafter, she was discovered by Drake Doremus, and made her acting debut in his feature film, Breathe In (2013).
Career
She had previously appeared in short film Alex (2011) as well as in Smashed (2012), and later appeared in Breathe In, The F Word (2013) which she received a Canadian Screen Award nomination, Bad Turn Worse (2013) and That Awkward Moment (2014).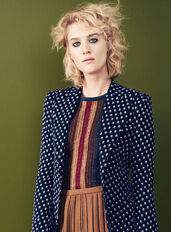 Before her movie career (not including Alex) she was in an episode of I Just Want My Pants Back in 2012 called "Safety Nets".
Since 2014 she stars as computer programmer Cameron Howe as the lead in the TV series Halt and Catch Fire.
She appeared in The Martian (2015) as a NASA satellite communications engineer named Mindy Park. She also starred in Freaks of Nature (2015) as the lead role, A Country Called Home (2015) and short film Memory Box (2015).
In June 2016, She also appeared in "San Junipero", an episode of the anthology series Black Mirror as Yorkie. In 2016 she was in Izzy Gets the F*ck Across Town (2016) and her role in Always Shine (2016) won her the Tribeca Film Festival Award for Best Actress
Davis was cast in an undisclosed role in the Blade Runner sequel and is also currently working on another film called Tully. The original Blade Runner was directed byRidley Scott just like The Martian although the new one is directed by Denis Villeneuve, set to release this year in October.