Seán Mark Bean was born 17 April 1959, and is known professionally as Sean Bean. He is an English actor.
He plays Mitch Henderson in The Martian (2015).
After graduating from the Royal Academy of Dramatic Art, he made his professional debut in a theatre production of Romeo and Juliet in 1983. Retaining his distinctive Yorkshire accent, he first found mainstream success for his portrayal of Richard Sharpe in the ITV series Sharpe. Bean has since garnered further recognition for his performance as Ned Stark in the HBO epic fantasy series Game of Thrones, as well as roles in the BBC anthology series Accused and the ITV historical drama series Henry VIII. His most prominent film role was Boromir in The Lord of the Rings trilogy (2001–03).
Other roles include Alec Trevelyan in the James Bond film GoldenEye (1995) and Odysseus in Troy (2004), as well as roles in Patriot Games (1992), Ronin (1998), National Treasure (2004), North Country (2005), The Island (2005), Silent Hill (2006), Black Death (2010), Jupiter Ascending (2015) and The Martian (2015). As a voice actor, Bean has been featured in the video games The Elder Scrolls IV: Oblivion, Sid Meier's Civilization VI, and the drama The Canterbury Tales, among several others. He has received several awards during his career and won an International Emmy for Best Actor. He has also been nominated for a BAFTA and Saturn Award.
Early life
Bean was born in Handsworth, a suburb of Sheffield, which was then part of West Riding of Yorkshire (the County of South Yorkshire was created in 1974). He is the son of Rita (née Tuckwood) and Brian Bean. He has a younger sister named Lorraine. His father owned a fabrication shop that employed 50 people, including Bean's mother, who worked as a secretary. Despite becoming relatively wealthy, the family never moved away from the council estate as they preferred to remain close to friends and family. As a child, Bean smashed a glass door during an argument, which left a piece of glass embedded in his leg that briefly impeded his walking and left a large scar. This prevented him from pursuing his dream of playing football professionally.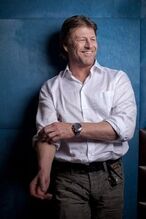 In 1975, Bean left Brook Comprehensive School with O Levels in Art and English. After a job at a supermarket and another for the local council, he started working for his father's firm with a day release at Rotherham College of Arts and Technology to take a welding course. While there, he stumbled into an art class and decided to pursue his interest in art. After attending courses at two other colleges, one for half a day and the other for less than a week, he returned to Rotherham College, where he subsequently enrolled in a drama course. After some college plays and one at Rotherham Civic Theatre, he won a scholarship to the Royal Academy of Dramatic Art (RADA), starting a seven-term course in January 1981.
Personal life
Bean has been married five times and divorced four times. He married his secondary school sweetheart Debra James on 11 April 1981. The marriage ended in divorce in 1988.
Bean met actress Melanie Hill at RADA, and they married on 27 February 1990. The couple's first daughter was born in October 1987; their second was born in September 1991. Bean and Hill's marriage ended in divorce in August 1997.
During the filming of Sharpe, Bean met actress Abigail Cruttenden, and they married on 22 November 1997. Their daughter was born in November 1998. Bean and Cruttenden divorced in July 2000.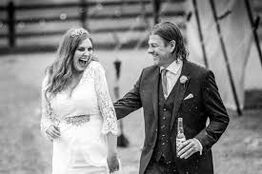 Bean began dating actress Georgina Sutcliffe in 2006. After cancelling their planned January 2008 wedding on the eve of the ceremony for "personal reasons", he married Sutcliffe at the Marylebone Register Office in London on 19 February 2008. During allegations that Bean physically abused Sutcliffe in 2009, domestic disturbances resulted in the police being called to their home in Belsize Park on three occasions. Bean and Sutcliffe's separation was announced on 6 August 2010, and the divorce was finalised on 21 December 2010.
He married Ashley Moore on 30th June, 2017. 
Bean has been a fan of Sheffield United since he was eight years old, and has a tattoo on his left shoulder that reads "100% Blade".He opened their hall of fame in 2001 and, after making a six-figure contribution to the club's finances, was on their board of directors between 2002 and 2007 to help raise the profile of the club. He stepped down in 2007 to "go back to being an ordinary supporter" where he feels at home.[49] During his time there, he had some issues with Neil Warnock, former manager of Sheffield United, after Warnock claimed that Bean stormed into his office and shouted at him in front of his wife and daughter when the club had just been relegated from the Premier League. Bean denies it, calling Warnock "bitter" and "hypocritical". He wrote the foreword and helped to promote a book of anecdotes called Sheffield United: The Biography. He also follows Yorkshire County Cricket Club.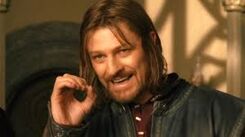 Bean has a tattoo of the number nine on his shoulder, written using Tengwar, in reference to his involvement in the Lord of the Rings films and the fact that his character was one of the original nine companions of the Fellowship of the Ring. The other actors of "The Fellowship" (Elijah Wood, Sean Astin, Orlando Bloom, Billy Boyd, Ian McKellen, Dominic Monaghan, and Viggo Mortensen) have the same tattoo. John Rhys-Davies, whose character was also one of the original nine companions, arranged for his stunt double to get the tattoo instead.
Bean has received multiple articles of fan mail intended for Rowan Atkinson, who played Mr. Bean.
Bean is a supporter of Jeremy Corbyn and of "old Labour", or the era before Tony Blair rebranded the party as New Labour.