Jurassic World: Dominion Dominates Fandom Wikis - The Loop
Play Sound
The timeline of The Martian is as follows:
1958
July 29: NASA was founded.
1969
1975
May 30: The ESA was founded.
1994
1995
1996
1999
August 2: Chris Beck is born in Hartford, Connecticut
2006
2011
 2022
May-September: Beth graduated from high school and then moved on to MIT.
2026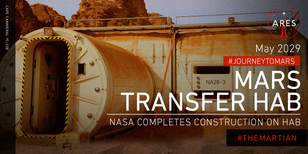 2029
The crew of the Ares I lands on Mars, taking humanity's first steps on the Red Planet.
Chris is selected to be an astronaut with NASA Group 36.
2030
2032
Mark was selected to be an astronaut with NASA Group 27. 
Beth was also selected to be an astronaut with NASA Group 27. 
2033
March 23: After congressional approval, NASA formally announces goals and objectives for the Ares III mission.
May 4: The crew is screened and selected based on those mission goals.
September 1: Crew training begins. This can take up to two years.
September 16: Pre-supply missions for Ares III begin.
2035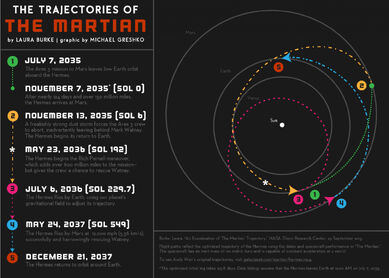 June 29: The Ares III crew depart Earth to rendezvous with the Hermes Spacecraft in orbit.
July 6: The Ares III crew leave the Earth orbit for Mars in the Hermes.
November 7: The Ares III crew step foot on Mars.
November 8: The crew will make a series of departures from The Hab to complete their primary scientific expedition beginning with soil samples.
November 25: A powerful sand storm hits Mars causing 5 out of 6 Ares III crew members to evacuate Mars, leaving Mark Watney stranded and presumed dead.
November 26: Watney awakens and performs emergency surgery on himself to get the piece of shrapnel out of his body.
December 5: They were supposed to decommission The Hab, leave Mars and return to The Hermes via MAV.
December: People at NASA learn of Mark Watney's survival on Mars but decide not to tell the Ares III crew for two months.
2036
2037